Students will have Early Dismissal at 11:30 on Thursday, October 18, 2018. Lunch will not be served. There will be no school for students on Friday, October 19, 2018, due to Parent/Teacher Conferences.
Laurens Raiders football players and cheerleaders visited GCO on Friday, September 28th.

Thank you Raiders for spending time with our students!

Future Raider!
Mission

The mission of Gray Court-Owings School is to create a community of learners who are responsible and productive citizens.

Vision

Gray Court-Owings School will be a school of excellence and equity in educational practices for all learners.

Value

We value commitment to excellence in all we do. We value active involvement in our school and community. We value positive, trusting relationships.
Business and Industry Showcase
7 days ago
8th grade students at GCO attended the 2018 Business and Industry Showcase to learn about various careers in our area.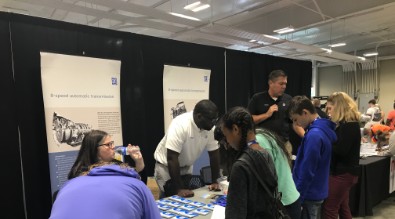 In an effort to update campus security, we have recently added automatic gates at the car loop and bus loop areas. Gates will remain open during morning arrival and afternoon dismissal. Remote access is available by pressing the call button during normal school hours.

All visitors are required to check in at the main office located at the front of the school which faces Highway 14.

Please have ID ready when coming to the school to visit, volunteer, or get students for early dismissal.

Thank you for your help and support as we work together to keep our students and school safe.
Administration and Office Staff

Kim Penland, Principal
Marcia Womble, Assistant Principal
Tawio Barksdale, Administrative Assistant
Mandy Tumblin, Guidance Mentor
Kristen Bryan, K-5 Guidance
Chris Hughes, 6-8 Guidance
Marla Orias, Elementary Instructional Coach
Brook England, Middle Level Instructional Coach
Sissy Meadows, Secretary/Bookkeeper
Carolyn Koon, Attendance
Joyce Dorrah, Receptionist
Car Rider Drop Off and Pick Up Information

• All car riders will drop off and pick up in the middle school loop from Webb Road (beside the old Dollar General). There will be no entry onto Hearthstone from Highway 14 (beside Laurens Family Medicine).

• If traffic overflows onto Highway 14, SCDOT suggests using Webb Road in its entirety by traveling to the end of Webb Road, circling, and then entering the car loop by making a right turn.

• Please refrain from turning around in driveways or other personal property.

• Car riders may begin arrival at 7:20.

• For the safety of all, vehicles will not be permitted into the car loop until 2:40 for afternoon dismissal.

• Buses will drop off and pick up in the original bus area.

• Class begins promptly at 7:55am. Any students arriving after 7:55 must be signed in by a parent or guardian in the main office located on Hwy 14.

• Please place name tags in the passenger side windshield during afternoon pickup.


Students may begin arriving at 7:20 AM.

Students should be in their classrooms by 7:50.
School begins promptly at 7:55 AM.

All students will be dismissed at 3:00 PM.
Gray Court-Owings School
9210 Hwy 14
Gray Court, SC 29645
P: 864-876-2131
F: 864-876-9597